How to Speed Up a WordPress Website Use Hosting Hostinger
Web hosting providers and plans highly influence site speed. Therefore, identifying your website's needs is essential to choosing the right web hosting.
How to Speed Up a WordPress Website Use Hosting Hostinger
BACA.NEWS, How to Speed Up a WordPress Website Use Hosting Hostinger - Search engines like Google consider page speed a ranking factor as it affects the overall user experience. The WordPress site offers various tools and features that influence your page speed.
We will demonstrate how to utilize those features to speed up WordPress.
Improving a site's loading time can help:
Increase rankings on search engines
Reduce bounce rate
Get higher conversions
This guide will share 12 actionable steps that can significantly speed up your WordPress site. Backed by expert insights, you will learn valuable tips and understand WordPress speed optimization better.
Test How Fast Your WordPress Website Is Right Now
Before working on your website, conducting speed tests are essential to record your performance and what to improve. GTmetrix and Pingdom are some of the most popular freemium speed test tools available.
Core web vitals are the main metrics to optimize your speed test results. The core web vitals metrics include:
Largest Contentful Paint (LCP) – checks the page loading time, especially how fast the web page renders its most significant elements. Aim to score 2.5 seconds or less to provide a good user experience.
First Input Delay (FID) – calculates the page interactivity, mainly the response time from the first user interaction to the web browser's response. The ideal score for FID is 100 milliseconds or less.
Cumulative Layout Shift (CLS) – measures the page's visual experience and stability by calculating the total amount of unexpected layout shifts. Aim to have a CLS score of 0.1 or less.

Hostinger has a PageSpeed test feature on its hPanel to simplify the process of optimizing your loading time. The feature also includes suggestions on how to improve your site speed.
Here are the steps to test your WordPress website using Hostinger:
Head to the PageSpeed button under Website on the hPanel.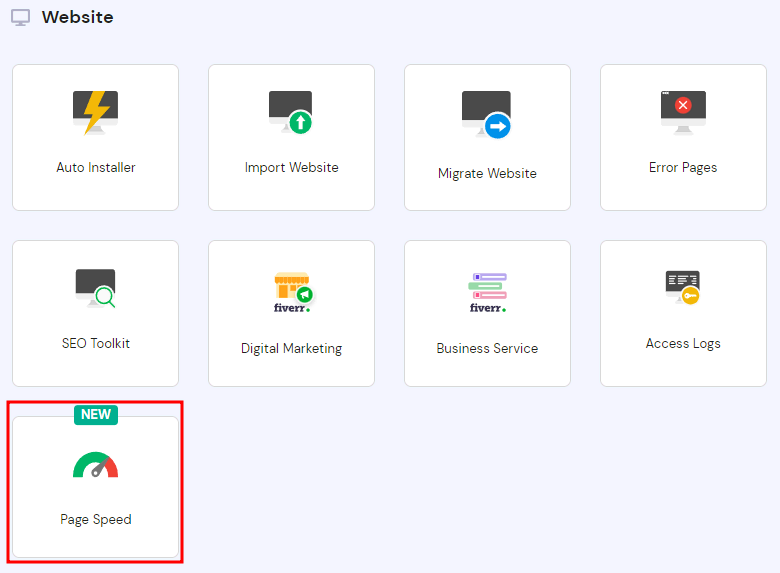 Choose either Desktop or Mobile for the device type and click Analyze.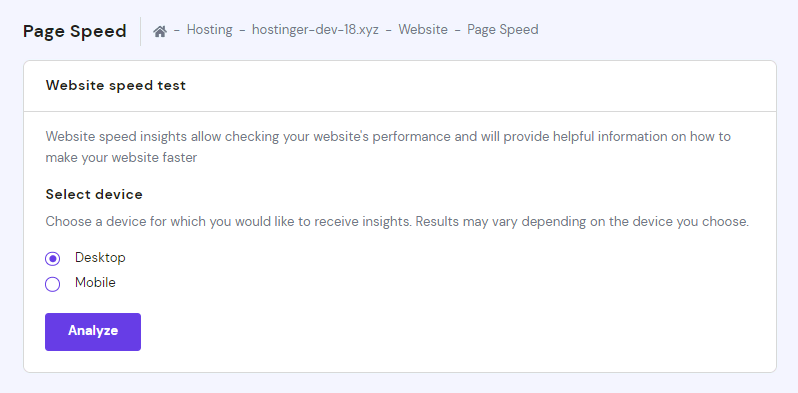 The Results page will show the core web vitals metrics and speed index, time to interactive, and total blocking time. Click on each item under the Details section to see suggestions on what to improve.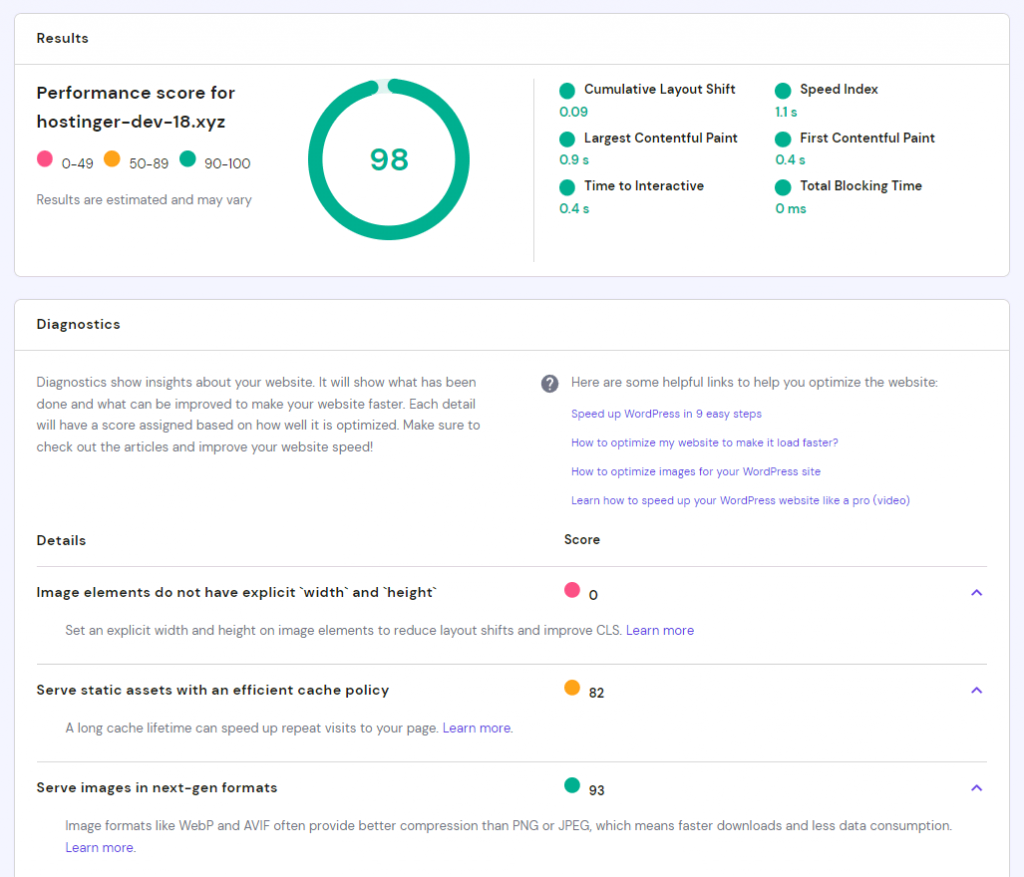 The Page Speed section will show Past Results for all tests you have done on hPanel for the domain name. This section helps display any changes in your speed test score.
12 Methods to Speed Up WordPress Website
After testing your site speed, here are 12 ways to speed up your WordPress website.
We are listing the following based on their difficulty level. Some beginner-friendly methods include choosing the right hosting plan and using a WordPress caching plugin. On the other hand, the more advanced solutions involve delivering content over HTTP/2.
Pick a Suitable Hosting Plan For Your WordPress Website
Web hosting providers and plans highly influence site speed. Therefore, identifying your website's needs is essential to choosing the right web hosting.
Some factors to consider when choosing a web hosting provider are:
Fast web server – influences the loading speed for all websites using the hosting provider. For example, Hostinger uses LiteSpeed Web Servers (LSWS) as the main web server, which comes with an advanced cache engine. Instead of creating a new request every time, LiteSpeed stores compressed cache files, optimizing page speed.
Include WordPress features – help specifically speed up WordPress websites. For instance, Hostinger automatically installs the LiteSpeed Cache plugin for all WordPress users.
Reliable customer support – ensures that your web hosting won't slow down your site. In addition, responsive customer support is essential to fix any issues right away, including downtime or slow loading time.
Once you've chosen a hosting provider, it's time to select the most suitable plan for your WordPress site. In general, hosting providers offer a variety of hosting types for WordPress:
Shared hosting. An entry-level type of hosting that supports multiple websites on the same server, sharing its resources. Hostinger's shared hosting plans start at $1.99/month.
Cloud hosting. A premium type of hosting that offers dedicated resources from a network of multiple servers. It's as simple to use as shared hosting. Hostinger's lineup of cloud hosting plans starts at $9.99/month.
Virtual private server (VPS) hosting. A type of hosting that gives users root access and dedicated resources. It requires some technical expertise to set up and maintain. Hostinger's VPS hosting starts at $2.49/month.
WordPress hosting. A type of shared hosting specifically designed for WordPress performance optimization and security. Take a look at the following table for a detailed breakdown of Hostinger's WordPress hosting plans – from the pricing to allocated hosting server resources:
Consider the amount of content you want to upload and your anticipated traffic in advance to get the best WordPress site performance. Ideally, the plan should have enough resources for daily use and leave a little headroom for unexpected high traffic spikes and upgrades.
Pro Tip
Hostinger users can test a better web hosting plan without commitment. We especially recommend doing this when you want to handle large traffic spikes and import large amounts of data faster. Simply activate the Plan Boosting feature from your hPanel and enjoy your new plan for free for 24 hours.
While it's only natural to want to save money when you can, hosting should be a top priority in your budget. It's a fundamental investment that can help boost your site's performance in general.
Choose the Closest Server Location
The location of your server determines how fast it can transfer and receive requests to load your website. The further the physical distance between you and the server, the longer it will take to receive and process a request.
Choosing the right server location can reduce latency.
High latency slows down the website, which worsens the overall user experience. Websites with heavy content often have high latency, such as those with many images, animations, and videos.
Choose the server location closest to your target audience when signing up for a hosting plan.
Hostinger has 10 data centers in Europe, North and South America, and Asia. Contact your hosting provider if you already own a website and would like to change your server location. Hostinger has simplified this process on its hPanel dashboard:
Access your hPanel dashboard and find the Server section in the sidebar. Click on the Edit icon.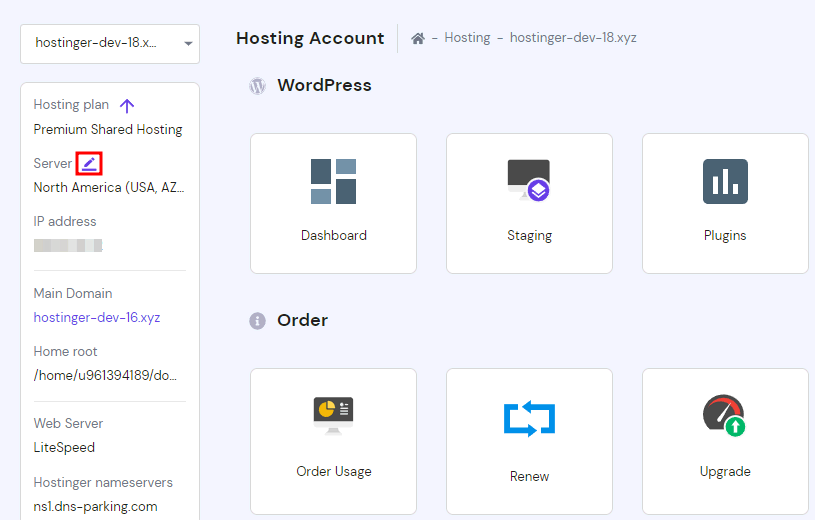 A new window will pop up. Select the server location to migrate from the drop-down menu. Note that you're only allowed to initiate one server transfer per month. Click Next and then Start to request the transfer.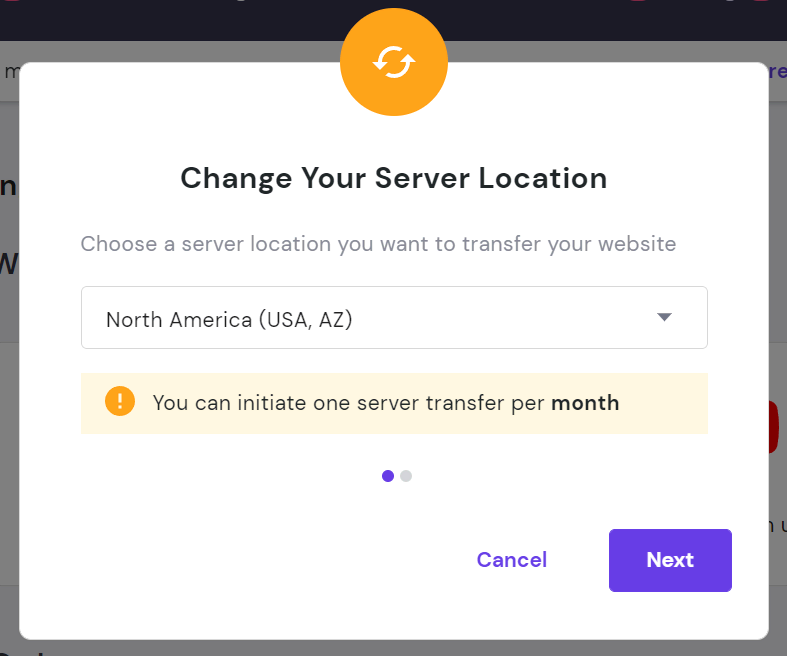 Important! Note that it can take up to 24 hours before the server migration is complete. We don't recommend making changes to your WordPress site during the process.
Once Hostinger has fully transferred the website to the new server, it will renew the IP address associated with your hosting plan. Make sure to check if your domain is pointing to the right provider.
Use an analytics tool if you are not aware of the location of the majority of your audience. The most commonly used Google Analytics plugin on WordPress Website is MonsterInsights. Installing MonsterInsights will show your website traffic metrics straight from the WordPress dashboard.
We recommend choosing the closest server to your target audience if you do not have a content delivery network (CDN). If you use a CDN, choose the nearest server to your physical location, as it will speed up your uploading process.